Participation/Introductory Programs
Southern Peninsula Basketball Association (SPBA) run a number of introductory programs to provide a fun, safe and easy environment to learn basketball.
Through adaptive introductory programs such as Aussie Hoops, Sporting Schools and Holiday Camps, children are provided with the best possible learning and playing experience to develop a positive introduction to the sport of basketball, ensuring enjoyment and continued participation.
Domestic Basketball Competitions
We have our domestic basketball competitions which cater for all age groups ranging from U8s through to open age. These competitions are graded to suit ability levels for each team.
Representative Competitions
Our association participates in representative competitions Victorian Junior Basketball League (VJBL), Big V, Country Basketball League and Country Championships.
VJBL caters for players from U12 through to U21.
Junior Country Championships are tournament-based representative competitions catering for regional associations and their members, with competitions for U12 right through to U18.
Australian Junior Championships
Basketball Australia hosts annual National Championships in junior age groups. State teams representing Basketball Victoria are selected to compete at the annual National Junior Championships.
World Junior Championships
Basketball Australia selects junior national teams to represent Australia every two years at World Junior Championships.
National Leagues
Elite players also compete in the National Basketball League (NBL) and Women's National Basketball League (WNBL).
International Tournaments
At the highest level, Basketball Australia teams compete in World Championships, Olympic Games and other international events.
Athletes around the Southern Peninsula region follow the Victoria Country Pathway below: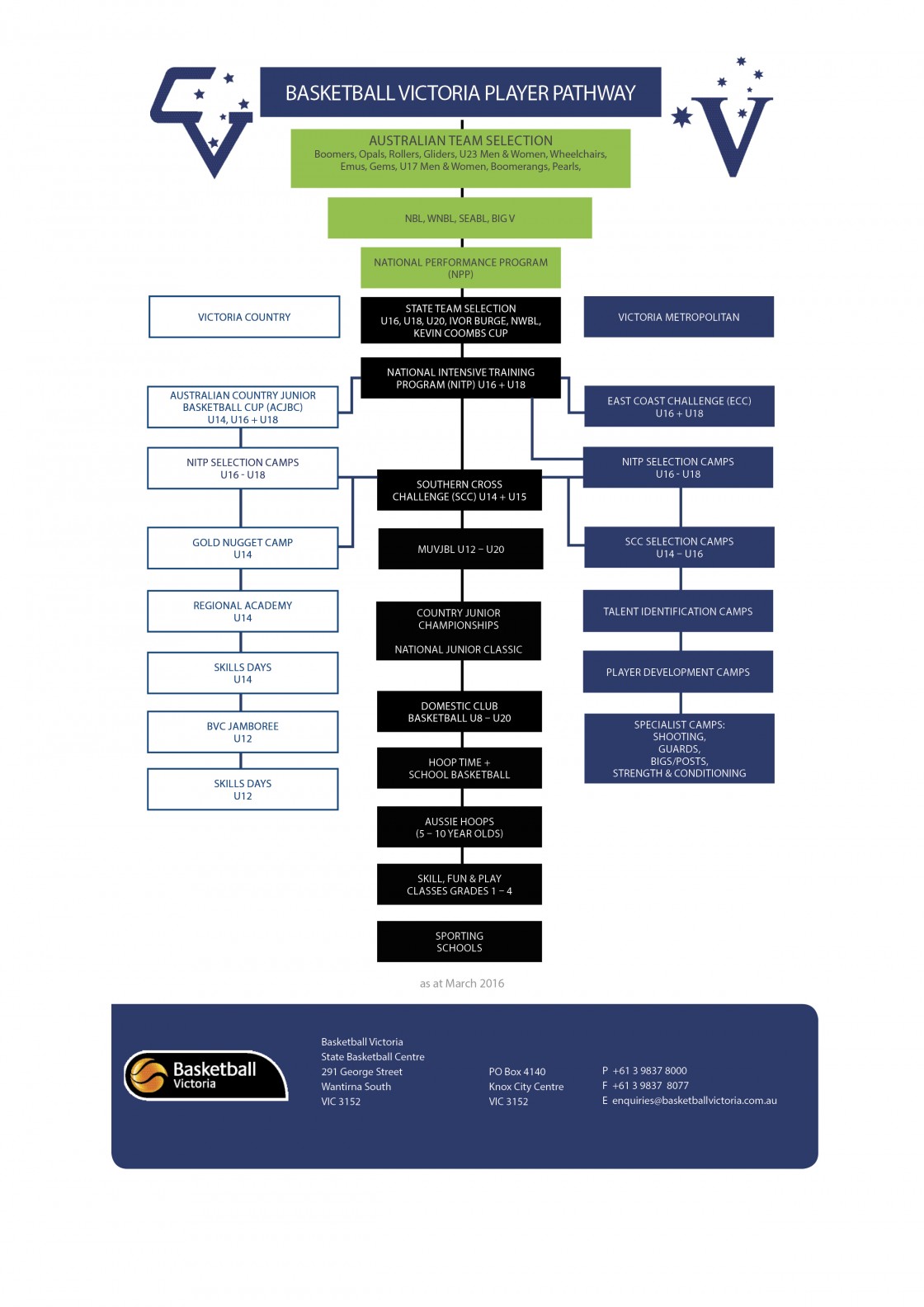 Referee Pathway
We pride ourselves on our pathways for our referees using the Basketball Victoria Country Referee Pathway!